Welcome to SNMP Security Analyzer
The SNMP Security Analyzer™ is a software tool that assists in the deployment and administration of SNMPv3. If an SNMPv3 manager is unable to communicate with an SNMPv3 agent and it is not clear why, this tool can help find the cause. It also can identify SNMP security exposures that may not be obvious to the network administrators.
The SNMP Security Analyzer has a discovery engine that can find all the devices on the network. Once the SNMP Security Analyzer finds an agent on the network, it conducts extensive testing on that SNMP agent looking for misconfiguations that may prevent SNMPv3 communication, misconfigurations that weaken SNMP security, and known SNMPv3 security vulnerabilities. Once the analysis is complete, the Security Analyzer automatically generates reports that identify and prioritize the discovered issues.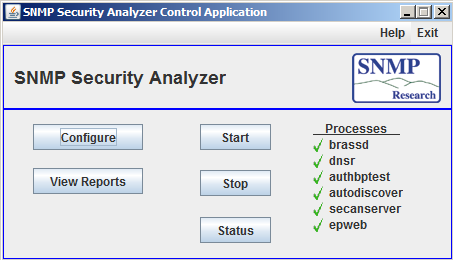 Follow these steps to get started using SNMP Security Analyzer:
Configure subnets and authentication information for the discovery engine. As an alternative to a network wide discovery, SNMP Security Analyzer can work from a pre-determined set of IP address.
Launch the SNMP Security Analyzer Control Application by clicking on the desktop icon or by typing the name of the start script on the command line.
Click on the Stop button to halt the background processes. Then click on the Start button to restart the background processes. This causes SNMP Security Analyzer to reload its configuration. If additional changes are made to the configuration, repeat this step.
Give the software time to discover and analyze the network. Then, click on the View Reports button to open a web browser to the first page of the report.
Next Topic: Reports Overview